The Craziest House Party Song of the Year is here, Kar Gayi Chull featuring the gorgeous Alia Bhatt and the talented Sidharth Malhotra from the upcoming Bollywood film, Kapoor & Sons (Since 1921). The song is composed by Badshah, recreated by Amaal Mallik, written by Badshah & Kumaar and sung in the widely loved voices of Badshah, Fazilpuria, Sukriti Kakar and Neha Kakkar!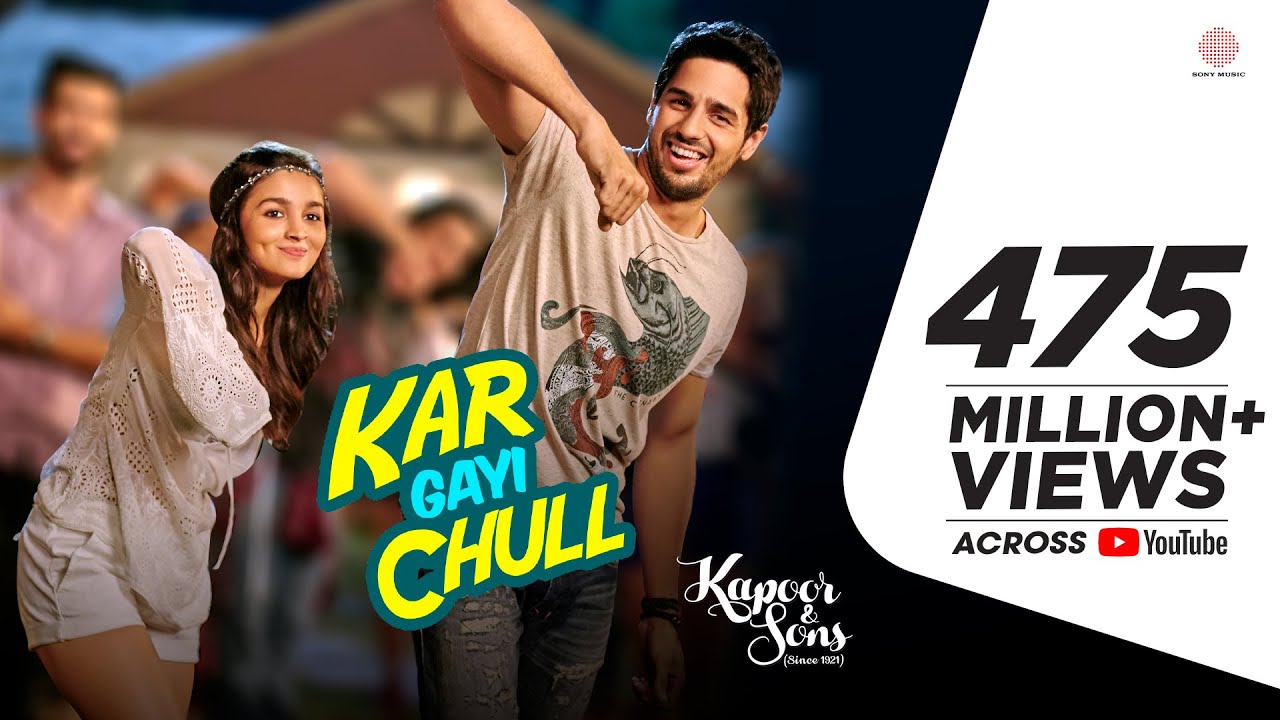 "Kar Gayi Chull – Kapoor & Sons | Sidharth Malhotra | Alia Bhatt | Badshah | Amaal Mallik |Fazilpuria" Song Info
Music Supervisor
Azeem Dayani
Studio
Dharma Productions Pvt Ltd
Music Label
Sony Music Entertainment India Pvt. Ltd.
Arre ladki beautiful kar gayi chull
Chull chull chull
Yeah
Dekh tera rang sanwla hua banwla
Ladki nahin tu hai garam mamla
Bolti band meri kahun kya bhala
Kuch bhi kaha nahin jaaye
Kya nache tu Dilli hile hai London
Matak matak jaise Ravina Tandon
Aag lagane aayi hai ban than
Goli chal gayi dhanye
Nakhre vilayati, ego mein rehti
Nakhre vilayati, ego mein rehti
Tashan dikhaati full
Arre ladki beautiful kar gayi chull
Chull chull chull
Arre daayein baayein
Kaise kamar tu jhulaye
Physics samajh nahin aaye
Arre ladki beautiful kar gayi chull
Arre daayein baayein
Kaise kamar tu jhulaye
Physics samajh nahin aaye
Sandal mere cham cham karde
Hai gye high brand ve
Sandal mere cham cham karde
Hai gye high brand ve
Mere heel pe honde land ve
Sari kudiyan haye desi chidiyan
Sari kudiyan desi chidiyan
Iklauti main bulbul
Main ladki beautiful kar gayi chull
Chull chull chull
Arre ladki beautiful kar gayi chull
Dekh tera rang sanwla hua banwla
Ladki nahin tu hai garam mamla
Bolti band meri kahun kya bhala
Arre ladki beautiful kar gayi chull
Kya nache tu Dilli hile hai London
Matak matak jaise Ravina Tandon
Aag lagane aayi hai ban than
Arre ladki beautiful kar gayi chull
Koyi bacha lo mujhe sambhalo
Arre isse utha lo
Arre ladki beautiful kar gayi chull
CLICK HERE TO DOWNLOAD THIS SONG
RELATED SONGS:
"Kar Gayi Chull – Kapoor & Sons | Sidharth Malhotra | Alia Bhatt | Badshah | Amaal Mallik |Fazilpuria" Song Video